TEGE Holsters. The Tactical OWB Paddle Holster (Glock 19, 19X, 23, 32, 44, 45 (Gen 1-5) Review
As many firearm owners know, the search for a good fitting, practical and comfortable pistol holster can be a severe headache and will most likely result in the outlay of a large amount of mulah, wonga, dosh, reddies, greenbacks, dollars, whatever term you wish to use for money...and the accumulation of a number of ill-fitting, impractical and uncomfortable holsters stuck in a box somewhere collecting dust. In an attempt to hopefully shorten the process, to avoid an unwanted collection and to save as much money as possible, I reached out to TEGE Holsters to evaluate some of their products.
Their product line of injected polymer IWB (Inside Waist Band), OWB (Outside Waist Band) plus IWB leather holsters cater to a number of different makes and models of pistols. Their pricing is very competitive when compared to so much of the holster market out there.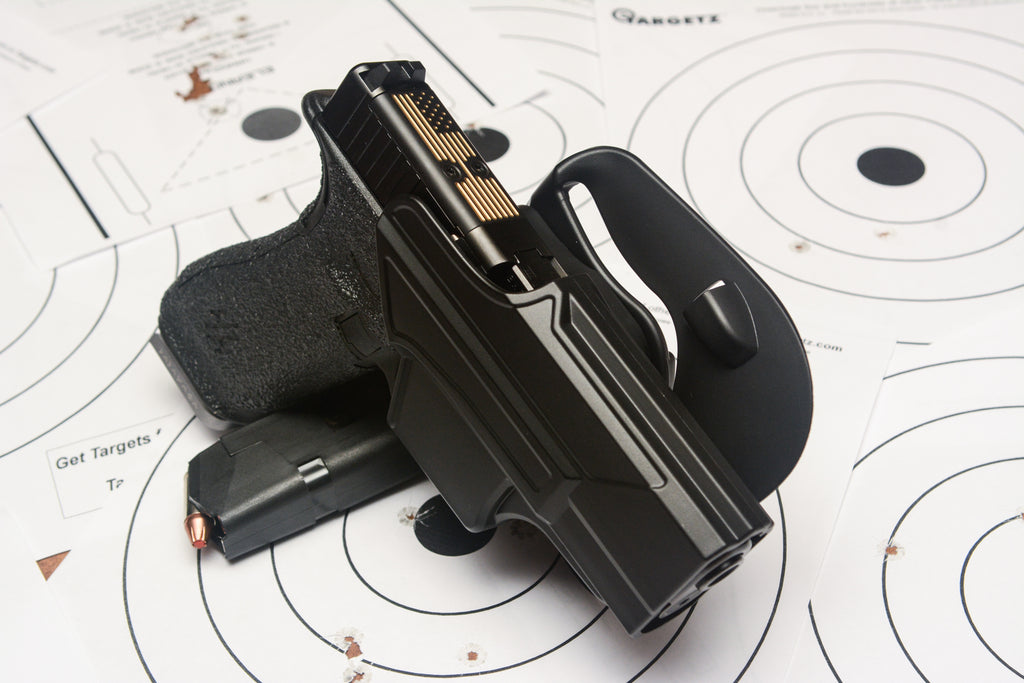 The particular holster in this review is a level 2 retention holster. It's specification offers more security retention than a regular concealed outside the waist band paddle holster. For those not familiar with the levels of retention for holsters, here's a basic guide to the three levels of retention:
A Level 1 holster will have a single retention method, and is most common for concealed-carry, and the holster holds the pistol only via friction, so you must pull firmly to overcome the friction and remove the pistol. 

Level 2 is primarily used by Law Enforcement (LE), who require extra safeguards to prevent their pistols from being removed by somebody else.  They feature a combination of two retention methods, such as friction plus button release, or a thumb strap over the back of the slide plus a button release. Some may use a rotating hood across the back of the slide and friction tension.

level 3 holsters, again primarily for LE and military, will have three separate mechanical features used to contain the weapon in the pistol. The user will have to disengage these 3 stages in order to draw the weapon. The process is actually very quick and can even be disengaged in stages of readiness.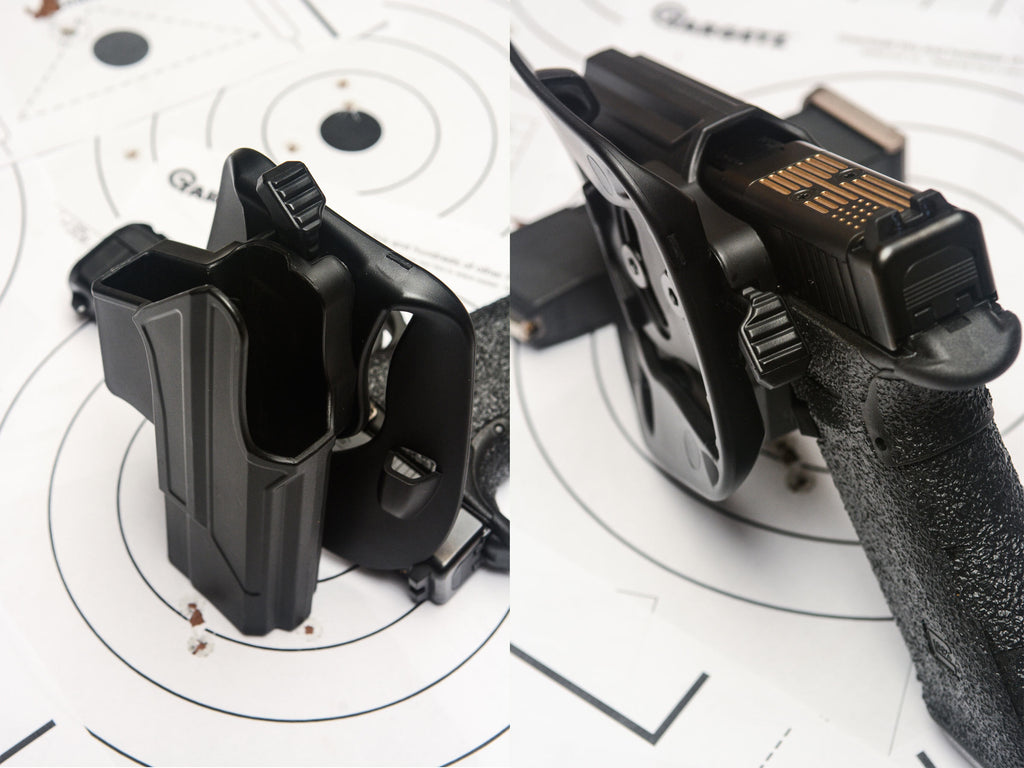 I have seen a lot of Kydex holsters over the last 10 years. A few of the top, well established brands are really good, but are also VERY expensive and may have a long order/build wait time. If you're not prepared to wait and/or pay high prices for your holster, then the available options may leave a bad taste in your mouth...rough edges, overheated, blemished Kydex, bad fitment to the pistol and an overall ugly looking piece of plastic. Any thoughts I had of yet another useless holster quickly disappeared when I opened the packaging. I was immediately impressed by the construction and finish of the holster and the paddle attachment. This level 2 retention TEGE holster is well made with smooth edges and good molding to grip the pistol where needed. The tactile, easy to actuate release lever was a nice touch. I have another brand of level 2 holster with a thumb release lever. It has a firmer release tension. Neither system is bad in any way. With the sample holster that I received, the lever requires less, almost minimal pressure to release the pistol. Some may feel that the minimal amount of pressure needed to release the pistol may make it too easy for someone else (an assailant) to remove the pistol from your holster during a struggle. I have not yet had the opportunity to test it in that particular situation.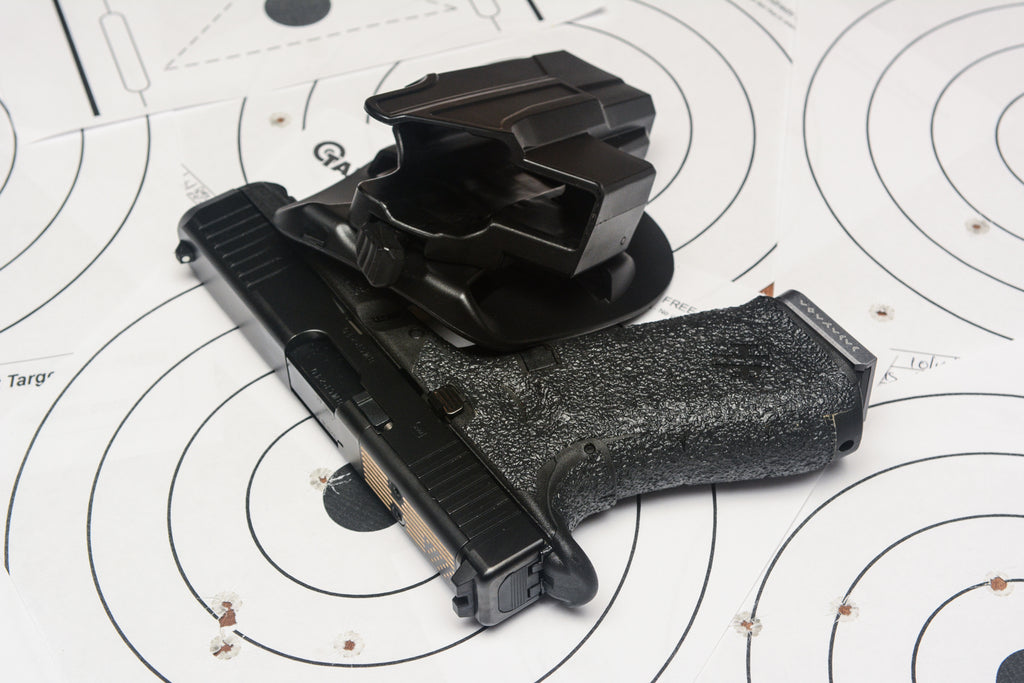 My intended use for this holster will be for range days and future firearm courses. I plan to put it through it's paces in all environments and weather conditions. I'm interested to see how it matches up against my Safariland 7TS model level 2 holster. That's a big test in itself. Safariland holsters have a tremendous reliability reputation with law enforcement and military around the world. I don't think TEGE are aiming this holster as a direct competitor against the Safariland level 2 holsters, it seems aimed more at the civilian shooter as opposed to law enforcement and military.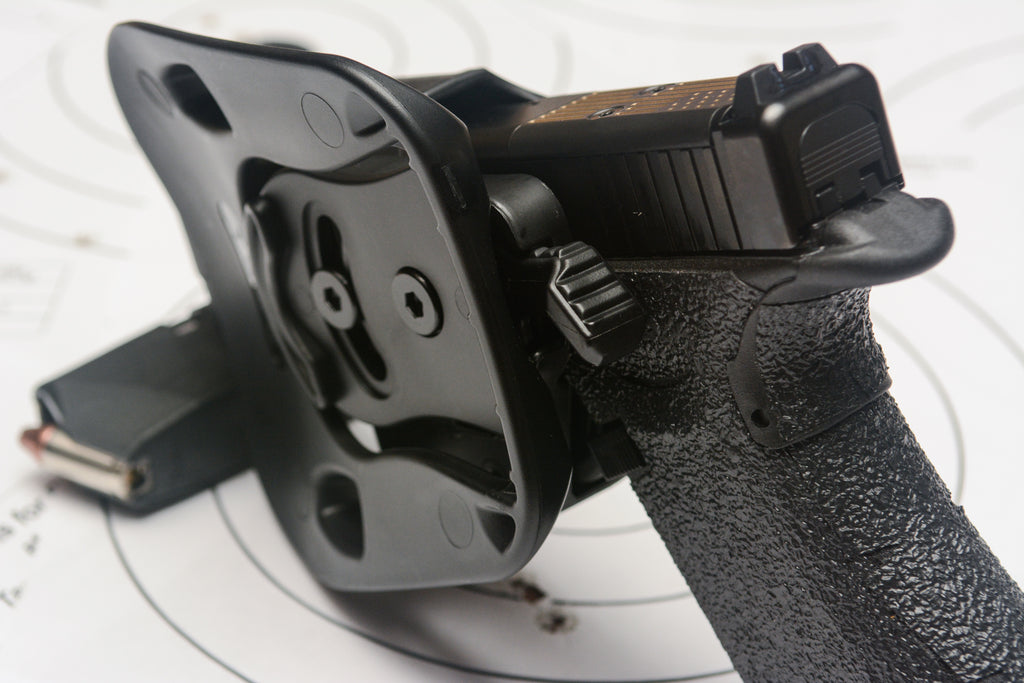 In the future, I'll do an update blog to report back the findings. What do you think...can the level 2 retention TEGE Holster hold it's own and stand up to the torture of range days and courses? Will the TEGE retention mechanism device hold up to the abuse?...I can't wait to find out!
---